Hydrotherapy is a series of exercises performed in water often lead by a qualified Physiotherapist, with the aim of providing a therapeutic benefit.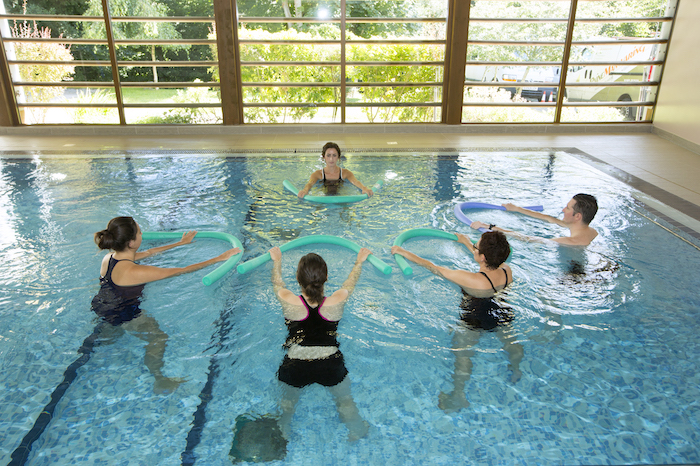 How does it work?
As hydrotherapy is performed in water, the increased buoyancy and reduced load bearing on the joints means that people are often able to perform exercises more comfortably than on land. The resistance of the water itself means that your muscles have to work harder but the joints are under less strain, which is often perfect following an operation or if you suffer from chronic conditions such as arthritis or back pain. It also provides the added benefit of heat therapy as the water in a hydrotherapy pool is usually a warmer than that of a normal swimming pool.
What benefits can it provide?
* Improves flexibility and mobility
* Improves muscle strength, power and endurance
* Reduced pain
* Improves balance and coordination
What conditions can it help with?
* Post-operative e.g. knee or hip replacement
* Arthritis(osteoarthritis, rheumatoid or ankylosing spondylitis)
* Musculokskeletal issues including muscle, ligament and tendon strains.
* Chronic pain syndromes (fibromyalgia, ME)
* Neurological disease (MS, Parkinson's, MND, post stroke)
If you are interested in trying hydrotherapy to see if it can help you, give our team a call on 01276 37670 and they will be happy to advise whether hydrotherapy suitable for your needs.
Where can I attend hydrotherapy?
Here at Thorpes Physiotherapy, we are fortunate to be able to use the state-of-the art pool facilities at Hampshire Lakes Retirement Village, Yateley in their Senses Wellness Centre.  We offer hydrotherapy sessions every Thursday.
Common FAQs
I am a bit unsteady on my feet, will this be an issue?
The pool has a set of gradual steps with a hand rail and there will be a physiotherapist on hand to assist you in and out of the pool.
I am not strong swimmer and unsure whether hydrotherapy is right for me?
You do not need to be able to swim to take part in hydrotherapy as the classes take part in shallow water where your feet can remain in contact with the pool floor at all times.
So what are you waiting for? Give us a call today in order to reserve your space as these classes tend to be very popular! If you are still unsure whether hydrotherapy is right for you then click here to get a free 15 minute phone consultation
Warm regards
Thorpes Physiotherapy Ltd